Giveaway: Resident Evil Outbreak
Posted on Mon, Apr 05, 2004

*This contest is now closed*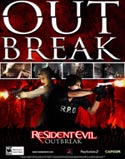 Thanks to our very generous sponsor Drill Team Media, we are having our first giveaway and giving one "lucky gamer" a chance to win a Resident Evil Outbreak prize pack.
The prize pack includes a Resident Evil Outbreak sports watch and a poster. Members from the U.S., Canada, and Mexico are eligible to win. All you have to do is contact us using the mail bag and tell us why the Resident Evil series rocks.

About Resident Evil Outbreak
Resident Evil Outbreak tells the dramatic story of an outbreak caused by a secret biological weapon infecting the people of Raccoon City. Citizens are turning into flesh-eating zombies that swarm the streets. Players wage war against the pharmaceutical giant, Umbrella who is responsible for the events leading up to this disaster. In the shadow of this nightmare are a few desperate survivors.
Players take the role of these distraught few as they search for traces of life. They must find a way to get out of this city before the government quarantines the entire area by firing a missile and destroying all proof of existence. Players must beat the clock or die trying. Resident Evil Outbreak is the story of those survivors, fighting to endure this horrific ordeal.
Posted By: Adam Paoli - 851 Reads
---
Go Back | Features Index | Post About It