Editorial: The History of Mario, Part 1
Posted on Sun, Jun 20, 2004

A Superstar's Saga: The History of Mario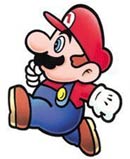 For better or worse, the video game industry is frequently compared to the film industry by analysts, pundits and the like. While there are some similarities to warrant the association, there are of course many fundamental differences as well. Perhaps one of the more subtle differences is the lack of anything equivalent to the Hollywood movie star. The film industry has its Tom Cruises, its Julia Roberts, and its Mel Gibsons. The real stars in the video game industry are all behind the scenes—unassuming programmers and artists that we usually never see, huddled in their little cubicles creating all the (hopefully) great games we play. To be sure, some "gaming gurus" do reach a certain level of fame (such as Konami's Hideo Kojima, Sega's Yuji Naka, or of course Nintendo's Shigeru Miyamoto), but none ever ascend to the same celebrity status as, say, Steven Spielberg, let alone that of a movie superstar like Tom Cruise.
Oddly enough, the closest thing the video game industry has to a movie superstar is the mascot character. Plenty have come and (or might as well be) gone, such as Crash Bandicoot, Gex or Lara Croft, and there was a time during the 90's when nearly every video game developer tried to make a mascot character of their own (surely you remember Aero the Acrobat?). Only one, though, has not only withstood the test of time, but has also consistently been in extremely high quality games for the entirety of his gaming "career." That mascot, of course, is none other than Super Mario. (Well, arguably two mascots remain if you count Sonic, but considering the state of affairs in Sega and the quality of the past couple Sonic games, the old hedgehog has lost some luster.)
We here at Gamer Talk have decided to pay homage to the video game industry's only true superstar by compiling a history of every proper game in the Mario series, as well as the more notable spin-offs and oddities. And, just because we love you, you'll also be able to learn a bit about the creator of Mario, the legendary Shigeru Miyamoto. So groom your mustache, strap on some blue overalls (or red if you're going for the throwback look), and adjust your red cap to a rakish angle—you're about to get intimately familiar with the coolest plumber ever.
Index:
Part 1 - Overview
Part 2 - Super Mario Bros 1 + 2
Part 3 - Super Mario Bros 3 + World
Part 4 - Super Mario World 2 + 64
Part 5 - Super Mario Sunshine
Part 6 - Spin-Offs
Part 7 - Spin-Offs, Continued
Part 8 - Shigeru Miyamoto Biography
Posted By: Kris Pigna - 3099 Reads
---
Go Back | Features Index | Post About It