MVP Baseball 2004 Preview for Xbox
Posted on Monday, February 16, 2004 @ 06:02:42 pm E.S.T

As any good sports franchise knows, tooling up in the offseason is essential to come out on top of all competitors and grab the attention of millions of fans for the season. The same goes for sports games, and just as Major League Baseball teams such as the Boston Red Sox and the New York Mets have been tooling up in the off season, so has EA Canada in preparation for this yearís endeavor in MVP Baseball 2004. But will baseball fans soak up all of the new additions and tweaks, or will it just fall through like an A-Rod/Red Sox trade?

First off, the gameplay that made the newly revitalized series a success in its rookie season last year is back again with minor improvements that allow more precision and realism in your game. The revolutionary pitching interface, with itís golf swing-like format that could very well be adopted into all baseball games within the next few years, is back again in full form. The button presses helped maximize accuracy and speed of your hurler, and was a fresh innovation and an essential part of any baseball game. The format returns for another round, and it looks to be better than ever with the tweaks it needed to become what EA hopes to be the best pitching meter in the market.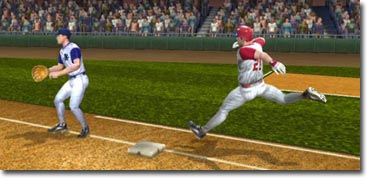 The graphics look quite sharp.
As far as batting goes, MVP is introducing a more detailed batting system that demands both speed and precise decision-making in order to smash the ball out of the park. If you donít manage to combine those two elements, then youíre bound to hit a ground out, or worse, strikeout, every time you step up to bat. Itís very similar to last yearís system, but with a few more tweaks to benefit the players' control.
Defensively, the use of the right analog stick looks to repeat last year's perfection, as you can choose how a fielder is going to react to a ball thatís being smacked their way. Push it upwards, and your outfielder may be like Torri Hunter and steal that game-winning home run over the fence from the opposite squad. Diving left and right can be performed by tilting the stick that way, and pulling down will result in your player performing a sliding catch. One must be careful with these, however, since if you pull off a sliding catch and the ball bounces over your head, you wonít be able to instantly run back and grab it.
Even base running has its own technicalities. Use of the right analog stick gives you ultimate control (see a trend here with the right stick?) over your base runner, as not only can you choose which base he runs to, but also the way the runner approaches the base. Suppose that you want to slide in head-first, tilt it upwards. Want to slide headfirst, but with a curve to the right? Push it up and to the right. You can even break up a double play by pulling down, sliding in feet-first, going around the base and touching the bag as you slide past. You can even be like Pete Rose and barrel through the catcher to make it to home. Thankfully, that's the only way you can be like Pete --- you canít gamble away your chances of playing the game.
Little details that can affect your entire game are existent, as well. For example, in many baseball games visiting the mound to check on your pitcherís performance is usually just a cosmetic addition to make the game seem more realistic. In MVP 2004, however, a mound visit is serious business. Letís say youíre playing as the Mets, and you walk up to the mound to check on Tom Glavine when heís pitching a perfect game through 3 innings (I know, itís tough to imagine with the way they play, but bear with me here). Tomís really going to get upset with you, and youíll see his stamina drop, making pitches less effective and they can usually end up in a bad location. However, suppose you go out there in the 8th, and heís just given up a triple and a double, you can go out there saying ďCome on, man, get it together. You can do this.Ē The player will then put all their focus into hurling strikes to end the inning, and the stamina will increase, which is really helpful when it is low and it suddenly jumps up 10 or 15 points. Small things like this may carry you to victory or defeat, rather than just take up a couple seconds of your playing time.
But the biggest of all additions to this yearís edition of MVP by far is the Dynasty mode, MVP's equivalent of a franchise mode. Right off the bat, youíll notice that you donít have many customization options --- itís one player per franchise, meaning that you canít have a friend join you on the ride, and you must play 162 games. No more, no less. However, the positives here are nearly endless. For the first time in any baseball game, youíre not just controlling a major league team --- youíre also controlling the AAA and AA minor league teams of each league. The minor league teams even have the official names and logos of their real-life components, and the players that have been in the Majors before have their real names (the ones that havenít have faux names). You can play an entire season as just the AA team, or you can simulate straight through the season. Also, youíre not only just controlling these teams, youíre also controlling the players on each team as well. If a young AA stud is playing excellently, you had better advance him up to the AAA game before he starts to get angered with you and his performance drops. Moving players around within the ranks is an important part of survival in the real life job of a general manager, and that definitely translates over to the video game realm.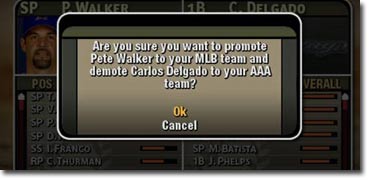 Demoting Delgado to AAA is probably a bad idea.
Every year, youíll have a set of team goals. Some of these must be reached every year, otherwise your contract wonít be renewed. These range from having your AAA team hitting a certain team average within a year, or having a pitcher win a Cy Young award within 3 years. All of these goals must be reached within a certain number of seasons, so itĎs not all about just winning the World Series to advance. The goals also range from team to team - if you start off as the Detroit Tigers, youíre going to be expected to do a lot less than with, say, the Atlanta Braves. So, you can do a lot of winning, but if you donít reach these goals, it could be game over for you.
Also in Dynasty mode, unlockable free agents from the past are existent, and weíre talking about some of the biggest names in baseball history. From Jimmie Foxx to Ty Cobb to the Great Bambino, Babe Ruth --- theyíre all right here. They are all at age 29, and their statistics have them listed as they would be in the prime of their career. However, signing one of these players is going to be tough, as their demands are high. Needless to say, the amount of attention that has to be paid in this yearís Dynasty mode is most likely the most realistic translation to the digital world than there has ever been made.
The only loss this season (and this is applicable for all baseball games) is the loss of baseballís megastar Barry Bonds. Bonds decided to do his own individual contract negotiations instead of going along with the MLB Playerís Association, which basically means that unless he specifically signs a contract with that developer and publisher, he canít be featured in any baseball games. Thankfully, Bonds has at least been statistically replaced by the San Francisco Giantsí new legendary home run hitterÖJon Dowd. Undoubtedly he has a generic, boring name, and he doesnít have the attraction that Barry Bonds has, but he does have one advantage - age. At the ripe, young age of 25, anyone who chooses to play as the Giantsí should be happy enough to have a slugger with the power of Bonds on their team whoĎs that young.
MVP Baseball 2004 is looking great in its current form. With a couple of minor changes, EA Canada could easily have the lead once again in the baseball genre. Be prepared for March 2004, when the competition gets hotter than a Subway Series game.
Preview By: Matt Hack - 1884 Reads
---
Go Back | Previews Index | Post About It