Resident Evil Outbreak Preview for PlayStation 2 (PS2)
Posted on Tuesday, February 24, 2004 @ 03:02:09 pm E.S.T

It's been over three years since the Playstation 2 made its triumphant launch on American soil. Over this time span, it's safe to say that the PS2 had kept gamers satisfied with its vast library of games. However, one of the most acclaimed Playstation titles of all time has failed to make any appearance on the console; that series was original survival horror, Resident Evil.

Capcom announced that Resident Evil would become a series exclusive to the Gamecube, and gamers bound to their PS2's cried foul. As hopes dwindled for Resident Evil to ever infect the PS2, E3 2003 rolled around and gamers received their first glimpse at the game that would become Resident Evil: Outbreak. Resident Evil fans had something to look forward to on the Playstation 2.

Outbreak, which was originally titled Resident Evil: Online, pits you back in Raccoon City, sometime after the events of the first Resident Evil. Basically, the game is comprised of a number of various situations. In these situations, gamers will control one of many Raccoon City residents, while a computer or other live players take control of up to three allies via the network adapter.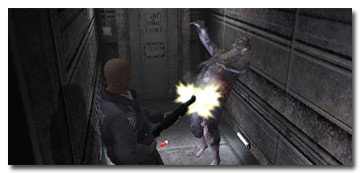 BANG!
Each of the many situations starts gamers off somewhere within a Raccoon City bar. Basically, when a zombie wanders into the bar, a few lone survivors are left to get down to business. From here on out, it's up to you and your allies to find the appropriate key and get out. From the bar, you'll venture to the rooftops and eventually into other vastly different and zombie infested areas of Raccoon City.
Outbreak plays like its predecessors, but is very different in many aspects. Even at that, it may be an understatement. Outbreak is filled with vast and varied environments, more varied and advanced zombies than we've seen in the past, and has even been switched to a fully 3D perspective. However, like its predecessors, Outbreak sticks with the third-person perspective of gameplay, as well.
Zombies' intelligence has advanced, as well. The previously "dumb" zombies will now chase you, attack in varied ways, and as we saw with the introduction of "Crimson Head Zombies" in the GCN remake of the original Resident Evil, attack at varied speeds. If the zombies step it up, it could only mean that gamers will have to do something quite the same.
Gamers will find that there are a vast range of new, more advanced weapons and gadgets awaiting use, as well as some character-specific items and abilities. These character specific items will include things such as special weapons and lock picks, making the characters you choose more influential than it may seem.
Outbreak is a unique installment in the RE series in the fact that you'll be heavily dependent on the help of your comrades to achieve success throughout the various situations. Players will need to take turns holding and swapping items, as well as joining forces to fight hordes of zombies.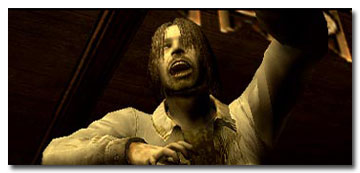 Someone must have the munchies...
The cooperative aspect of the gameplay appears to be most imperative in the online mode. The all-too-common chat feature is seemingly absent in the Japanese version of the game, and you'll have to rely on the right analog to shout out predetermined phrases to your team mates. The absence of chat from Outbreak serves to deepen the gameplay by keeping its eerie mood in tact, and only using necessary speech, such as calling for help.
From what has been seen of Outbreak, it can be said that it brings some welcome changes. The change to full 3D has been made quite painless by the good folks at Capcom; Outbreak nearly looks as gorgeous as its recent predecessors. Characters and environments are both highly detailed and textured, making Outbreak one of the best-looking PS2 games to come along in quite a while.
Capcom has done a seemingly wonderful job of implementing numerous changes to the classic RE formula. Everything we've seen thus far looks plain-old amazing. All in all, Resident Evil: Outbreak is shaping up nicely, and is likely to be one of the first must-have PS2 titles in 2004.
Preview By: Kent Mackowiak - 4951 Reads
---
Go Back | Previews Index | Post About It