Madden NFL 2005 Preview for PlayStation 2 (PS2)
Posted on Saturday, July 10, 2004 @ 12:39:33 am E.S.T

Legendary New York Giants quarterback Frank Gifford once said, ďPro football is like nuclear warfare. There are no winners, only survivors.Ē This has also been proven true in the video game gridiron competition, as within the last 15 years, no game has been able to survive quite as well as the Madden NFL series. From simple innovations such as team-accurate playbooks, to weather conditions affecting the game, up to last yearís addition of the ground-breaking Playmaker control, EA Sports and Tiburon have always put the right pieces of the puzzle together to make a pigskin game that is untouchable by all competitors.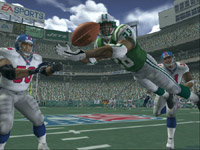 Ever since the release of Madden 2004, developers over at Tiburon have been working hard, spending endless hours coming up with innovative ideas to help make the series even better than it was last year. Year in and year out, the Madden franchise always gets top honors in the video game football market, but theyíve always been able to top their previous efforts in the newest editions. That surely wonít change this year, with all of the new exciting additions to Madden NFL 2005.
The first and most noticeable adjustment made to the Madden series is defensive play. This yearís game is practically built around D. Last year, the game was all about the new Playmaker control, which introduced innovative gameplay to the offensive side of the ball through use of the right analog stick. This year, the defense gets Playmaker control as well, allowing players to reconstruct plays on the fly. You can perform entire line shifts, call for rushes, and audible into blitzes. If youíre playing as the Broncos, do you want to move defensive back Champ Bailey to cover your opponentís number one receiver instead of trying the near-impossible rush to the QB? Anything you can imagine to modify a defensive play is at your control, and the ability to blow away the offense is only a few button combinations away.
Some may say that the addition of Defensive Playmaker control is the biggest change to playing D this year, and will help level the playing field against those pesky abusers of Offensive Playmaker control. But thereís no doubt that the flashiest add-on to this yearís Madden is the Hit Stick. The Hit Stick is what will prove that youíre a man if youíre the one thatís stopping the offense. Just by flicking the right analog stick in the direction of the player you want to tackle, youíll knock the living hell out of any receiver, running back, or QB that steps in your way. The Stick will provide the kind of hits that guys like Giants' DE Michael Strahan and Ravens' LB (and Madden 2005 cover boy) Ray Lewis dream about the night before the game.
Donít think that the offense has been completely left out of the game, though. Although the biggest changes have come to the defensive side of the ball, all of the things that made scoring touchdowns great in previous years are back and better than ever. Everything thatís been in previous incarnations of the Madden series, like the ability to audible and last yearís Playmaker control, has returned in pristine form. Sadly, thereís nothing new to offensive pigskin in this yearís game, but everything that made it good in the past is all in tact, and is sure to entertain all players.
One severe flaw thatís had digital footballers griping is the commentary. John Madden and his Monday Night Football colleague, Al Michaels, provide the play-by-play calls, but this year will include the addition of two new voices: ESPNís Jill Arrington, and the voice of Fox Sports News, Tony Bruno. Thanks to the result of locking these two in a recording studio for thirty hours per person, Arrington will dish out this yearís sideline commentary, providing the latest updates on in-game injuries and keeping players updated on scores on games going on throughout the league. Bruno, on the other hand, will be the host of Madden 2005ís Storyline Central, which is a new addition to the Franchise mode that will help you get a leg-up on how your players are feeling personally, straight through the mouth of the press.
Ah, the Franchise mode; either you love it or you hate it. If youíre a football purist, living everyday like itís fourth and 10 with the time winding down on the clock, thereís no better way to play a video game than in Maddenís Franchise mode. All of the things that made the game so good in previous years are back, including the basic trades, free agency signings, and the ability to manage your team for what seems like an endless amount of seasons. However, EA has added some new features that make running your own team even more similar to the real-life job than ever. These include the ability to assign players with the franchise tag, and the ability for members of your team to shop themselves around as restricted free agents. There are also other additions, including player progression throughout the season, being able to practice with your team, and even the ability to swap positions for certain players. Winning the Coach of the Year award may be a challenge, but with the enormous amount of options available, assembling a Super Bowl-worthy team may be easier than ever.
The standard modes from previous Madden games are returning this year as well, including Exhibition mode (a regular pick-up game), Owner mode (where you actually own the team, instead of coach it), Mini-Camp (a group of randomly assorted mini-games), and Create-A-Player (where youíre given the ability toÖwell, create a player.) But the latest addition to the huge number of playing modes this year is Create-A-Fan, where youíre given the ability to create fans for your team in any mode, using a huge number of options. Want a rabid group of fans for your Baltimore Ravens, called the ďRavensí Nest,Ē that would even make the most diehard members of the Raider Nation piss their pants? How about a group of men in the stands at Ralph Wilson Stadium, home of the Buffalo Bills, dressed even more womanly than the Redskins Piglets? Itís up to you how crazy your fans will be.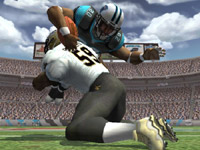 As always, online play will be available in the same, pristine form as it has been in previous years. However, PS2 and PC owners wonít be the only ones enjoying cross-country action; EAís recent support of Xbox Live will finally give owners of Microsoftís console the online game theyíve been waiting for since the inception of Live. While EA has shunned Xbox users for years, due to the fact that Microsoft wouldnít allow them to have their own independent servers, the two groups came to an agreement that would allow EAís releases to be played through the Live service. Youíll still use your Xbox Live account to start up the game, but after you sign onto Microsoftís servers, youíll then have to sign on to EAís. The first time this is done, the procedure takes approximately 30 seconds, but after that initial log-on, itís smooth sailing.
The options in online play are vast, as well. With the ability to just play a quick pick-up game, set up tournaments with friends, and even play mini-games such as Rushing Attack with friends and foes alike, the amount of time you can spend playing online is nearly endless. Although you canít play cross-platform (PS2 vs Xbox), everyone except for those poor GameCube users will be able to play the online game that PS2 users have been bragging about for years.
One complaint thatís already come from fans about this yearís game is the music selection that EA went with. While some people wonít have a problem hitting the sticks to artists like Will.I.Am and Chevelle, there have been lots of grievances about groups like New Found Glory and Franz Ferdinand. Itís obvious that a lot of football fans simply donít want pop-punk and the evident resurgence of nu-wave to infiltrate their speakers while they flatline quarterbacks looking for a touchdown pass. Although Xbox owners canít use the hard drive to play custom soundtracks, hey, at least you can sift through the menus and turn off whatever songs you donít like.
Ever since the original gameís release 15 years ago, itís been very hard to find a complaint about the Madden NFL series. There hasnít been a year thatís gone by without innovation, and 2005 doesnít look to change that with new additions such as the Hit Stick and giving Playmaker control to the big D. Maddenís worn the digital gridiron crown for many years, and it surely doesnít look like dethroning will be an option for competitors this year.
Preview By: Matt Hack - 2412 Reads
---
Go Back | Previews Index | Post About It