Test Drive: Eve of Destruction Preview for PlayStation 2 (PS2)
Posted on Saturday, August 21, 2004 @ 05:29:31 pm E.S.T

Let's face it; destruction and explosions are today's standards when creating a video game. The more obliteration, the better the game sells, for the most part. Atari's new racing title, Test Drive: Eve of Destruction, is no exception to the rule. What's the premise of the game? Who cares!? It's kill or be killed in this psycho redneck world of ours.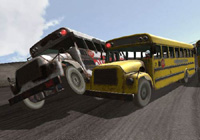 At first glance, this game looks badass (like "Mr. T wearing a wife-beater and pumping a shotgun" badass), then I played it. In the demo I received, there were four playable modes to have fun with. This included a figure-eight race, a "big jump" race, a suicide race, and my personal favorite, the destruction derby. Each type of game is roughly identical to the other; in fact, "big jump" and the figure-eight track are primarily just different courses. Your primary objective is generally to survive and take first place, with the exception to destruction derby where it's just to survive.
In the figure-eight race and the "big jump" course, you travel through an oversized motocross track with a pointless jump or two. Why are these jumps pointless? Because I'll be damned if anyone can get any air with these pieces of crap you're driving (oh, but we'll get into that soon enough). In the classic suicide race, participants take their mark on an oval shaped track in the typical racing fashion. Once you make it halfway around the course, however, you'll come to realize that there are other racers on the track as well… headed in your direction. The Crash mode in Burnout 2 comes to mind when I think about the suicide races, because there's a certain chain reaction that takes place when taking part in these races; the game will establish a leader, or should I say a "sacrificial savior." His job is to willingly collide face-first with the oncoming gang of cars. This, in turn, creates the chain reaction I mentioned earlier. Every single car on the entire track somehow ends up becoming entangled with each automobile in it's eyesight. I like to think I'm making an artistic collage of metal, rather than causing pain and mass destruction.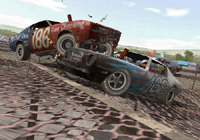 But you'll never feel too sorry for the drivers, because I doubt it's even possible for them to get whip lash at the speeds they're going. Remember when you were a kid and thought it would be cool to ram your Big Wheel into your neighbor's Big Wheel? Add an extra wheel and that's what you have with Test Drive. Honestly, I think the highest speed I reached was a little over 34 mph. If you'd like to emulate the feeling of playing this game in real life, I suggest you build a go kart out of Legos, attach a Playschool steering wheel, and ride down a hill into a brick wall.
Test Drive is 100% accurate, however, and to prove this, I went to a demolition derby myself. At first, I noticed how bad of shape these cars were actually in. Monster Games, Inc. did an excellent job of imitating the real deal. Even cars new to the derby looked like they had suffered a body-job from Hellen Keller. Vehicles roamed around a small square track, traveling at speeds equal to the drivers' IQs, and would nudge up against each other every once and a while. After about 3 hours of the derby, I left to go home and look at my wall.
Eve of Destruction does stand a chance in making it, as long as the cars' engines get an upgrade. The physics and control of the automobiles is solid and provide a life-like experience to actual demolition derbies (which aren't actually as boring as I made them out to be). As long as the good people at Monster Games, Inc. give a significant speed boost to the cars, this will be a title worth looking at when it launches August 24th.
Preview By: Dacvak - 3234 Reads
---
Go Back | Previews Index | Post About It