Madden NFL 2004 Preview for Game Boy Advance (GBA)
Posted on Monday, August 04, 2003 @ 06:55:34 am E.S.T

In its 14th year and with over 28 million copies sold, Madden NFL Football once again proves its status as the undisputed leader in authentic NFL football simulation. With a primary focus on in-game graphics, incredible depth, visual presentation, and tournament tested gameplay, this season Madden NFL 2004 continues to demonstrate why it's the definitive interactive sports gaming experience. New features include revolutionary Playmaker Control that lets gamers adjust on the fly just as NFL players do, deep Owner Mode options, and improved online play for the PlayStation 2 computer entertainment system.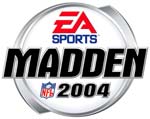 Key Features:
Updated team logos, team uniforms, and rosters.
Link play for head-to-head competition.
Full season play with stats.
Scouting Combine Create-A-Player: build your player through a series of rigorous events.
Preview By: Adam Paoli - 1585 Reads
---
Go Back | Previews Index | Post About It