Def Jam Vendetta Review for PlayStation 2 (PS2)
Posted on Tuesday, May 27, 2003 @ 12:03:35 pm E.S.T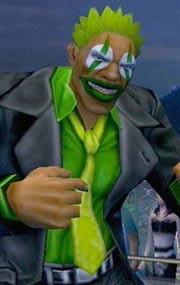 First you get the money, then you get the power, and then you get the respect. The world of hip-hop hits the ring. Get respect as you wrestle numerous street thugs and major rap artists in underground nightclubs. The goal is to get to D-Mob and take him down. You think you got what it takes to take on the street fighters and defeat the Def Jam leader, D-Mob?
Design: There are three game modes; Battle, Story, and Survival. There are four match types including Singles Match, Tag Team, Free for All, and Handicap. There are over 45 wrestlers including 12 Def Jam Artists such as DMX, Ludacris, Method Man, N.O.R.E., Redman, Scarface, and WC. There are over 1500 unique moves built in for the characters, as well as super moves and taunts that are unique to each player. There is also a unique momentum system that changes depending on the beating you give or receive.
When playing Story Mode, you will play as a low life street fighter, and you will try to fight your way to the top. During the journey you will receive money, stat points, girlfriends, girlfriends galleries, and 10 different stages as well as all 44 of the Def Jam street fighters. As you move up the chain to fight D-Mob, the difficulty clearly raises. It is in story mode where you may unlock everything and beat the game.
Battle Mode is where you can play with your friends when you want to beat your friends face in with a Def Jam fighter or artist. You can use all of the different match types in this game mode. The survival mode is self-explanatory. You must survive through numerous amounts of attacks, similar to a Battle Royal in other wrestling games.
Graphics: The graphics within the game aren't the greatest in the market, although the player detail is pretty elaborate. You can see details like all of the muscles and tattoos on various street fighters. The rings and scenarios look decent, but could definitely be improved upon. The crowds look paper-like like in most PS2 games it's pretty bad. The movies inside the game that explain the storyline are by no means good enough, they look like a cartoon.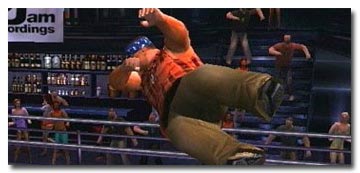 He must have fallen asleep in mid-air...
Sound: The soundtrack for Def Jam Vendetta is awesome. The music comes from such rap as DMX, Ludacris, Method Man, N.O.R.E., Redman, Scarface, WC, and more. I just love slamming Ludacris into the while listening to the song "X Gonna Give It To Ya" by DMX. If you're a fan of rap music, you'll love this games soundtrack because it will pump you up.
Addiction: This game was very addicting when I first got it, for a few days. After beating it, you will notice this game loses its replay value it feels like your doing the same thing over and over. Don't worry though because you can always compete against friends in Single Match, and of course show off your mad skills.
Review By: Mike Bellovin - 3686 Reads
Def Jam Vendetta Review Scores for PS2 :

| | | |
| --- | --- | --- |
| Gameplay | | 7 |
| Graphics | | 8 |
| Sound | | 8 |
| Replay | | 8 |
| Overall | | 8 |
---
Go Back | Reviews Index | Post About It